Video tutorial
Prefer a text version? Please scroll down.
Microsoft Teams Integration
Microsoft Teams is the collaboration tool for your team that is part of Microsoft Office 365 and that integrates all your colleagues, documents, processes and other tools in one convenient place so that your team can be more efficient. The Vizito integration for teams brings even more efficiency to your team by sending out automatic notification to your colleagues when a visitors signs in for them at the reception.
The installation of the integration is really easy and consist out of 2 easy-to-follow steps.
Before starting, please make sure that you are an administrator in Office 365. If not, please forward this guide to one of your IT administrators so that they can connect Vizito with your Office 365 organisation.
Step 1: Connect Vizito to your Office 365 organisation
Go to https://backoffice.vizito.be/#/integrations and click on the Add to MS Teams button.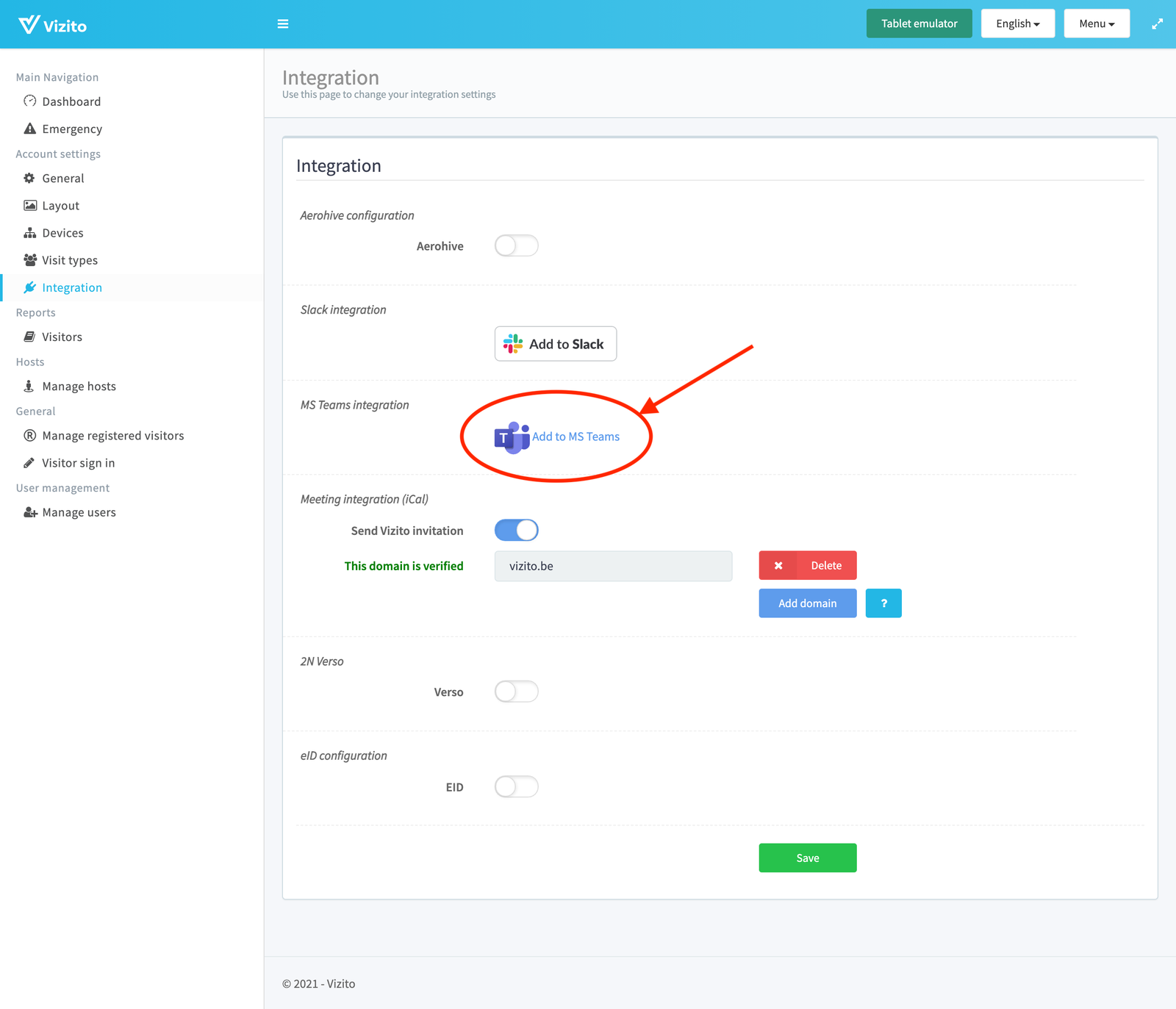 You will be redirected to Office 365 and asked to either sign in or to allow access to the Vizito integration.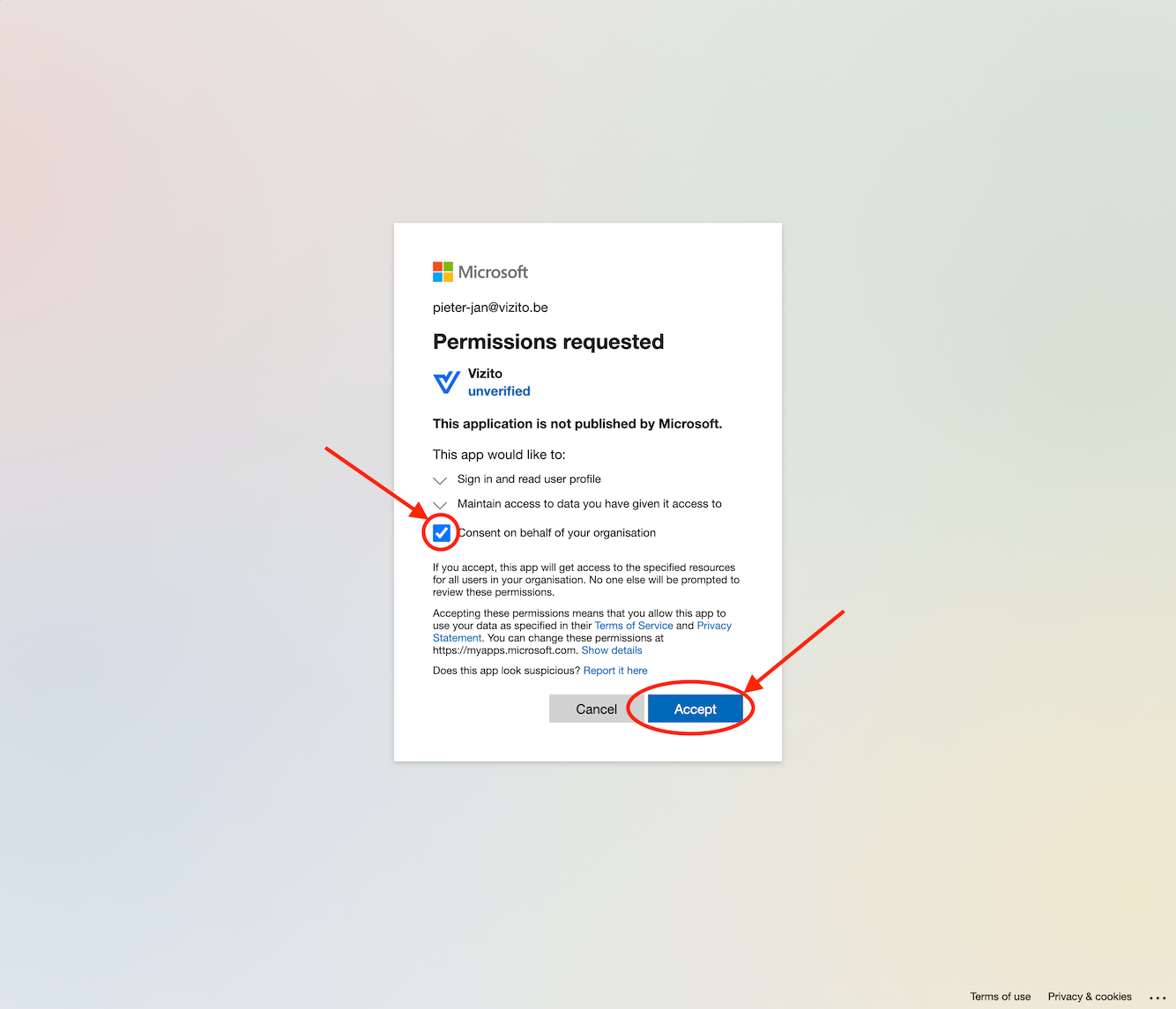 If everything goes according to plan, you will see a popup in Vizito that mentions that the integration is pending.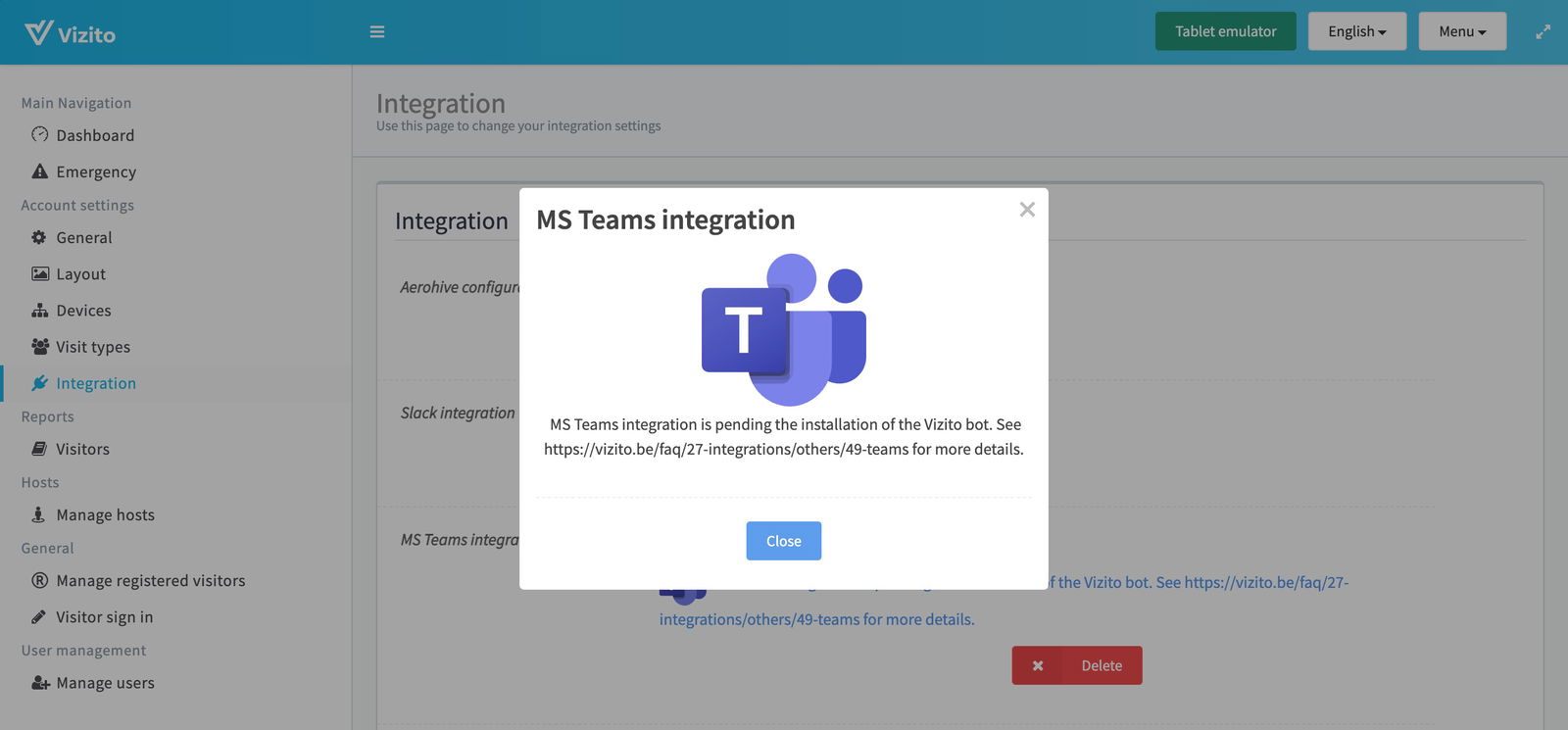 Now you will have to install the bot in Microsoft Teams.
Step 2: Install the Vizito bot into Microsoft Teams
Install the Microsoft Teams Vizito app via one of the following methods:
2.1 Microsoft Teams Apps store
Find the Vizito app under "Apps":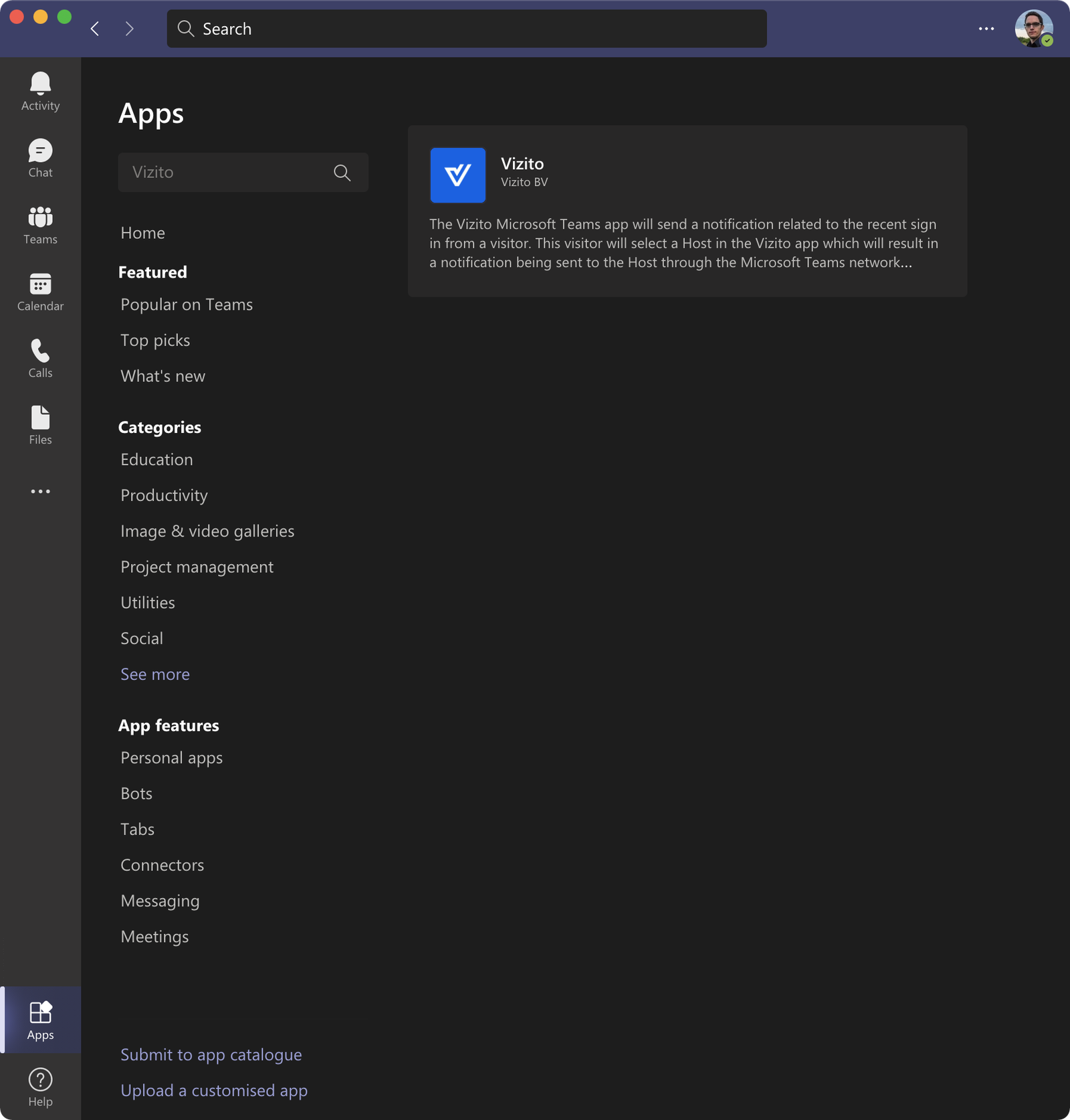 2.2 Manual installation
Download our bot package from https://vizito.eu/vizito_teams_bot.zip .
Open Microsoft Teams and click on Apps in the left bottom corner: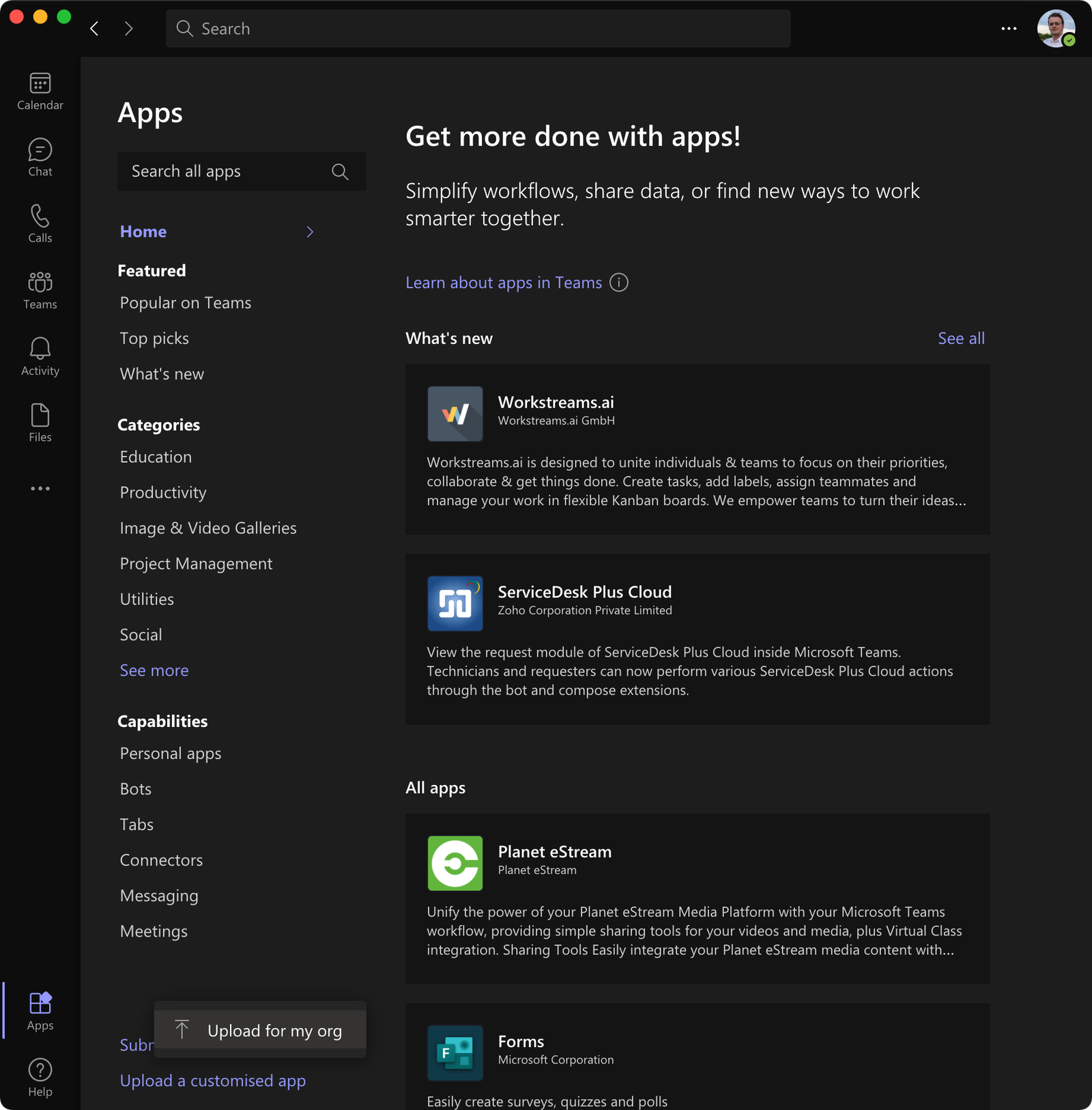 Upload the file you just downloaded, you should see the following screen: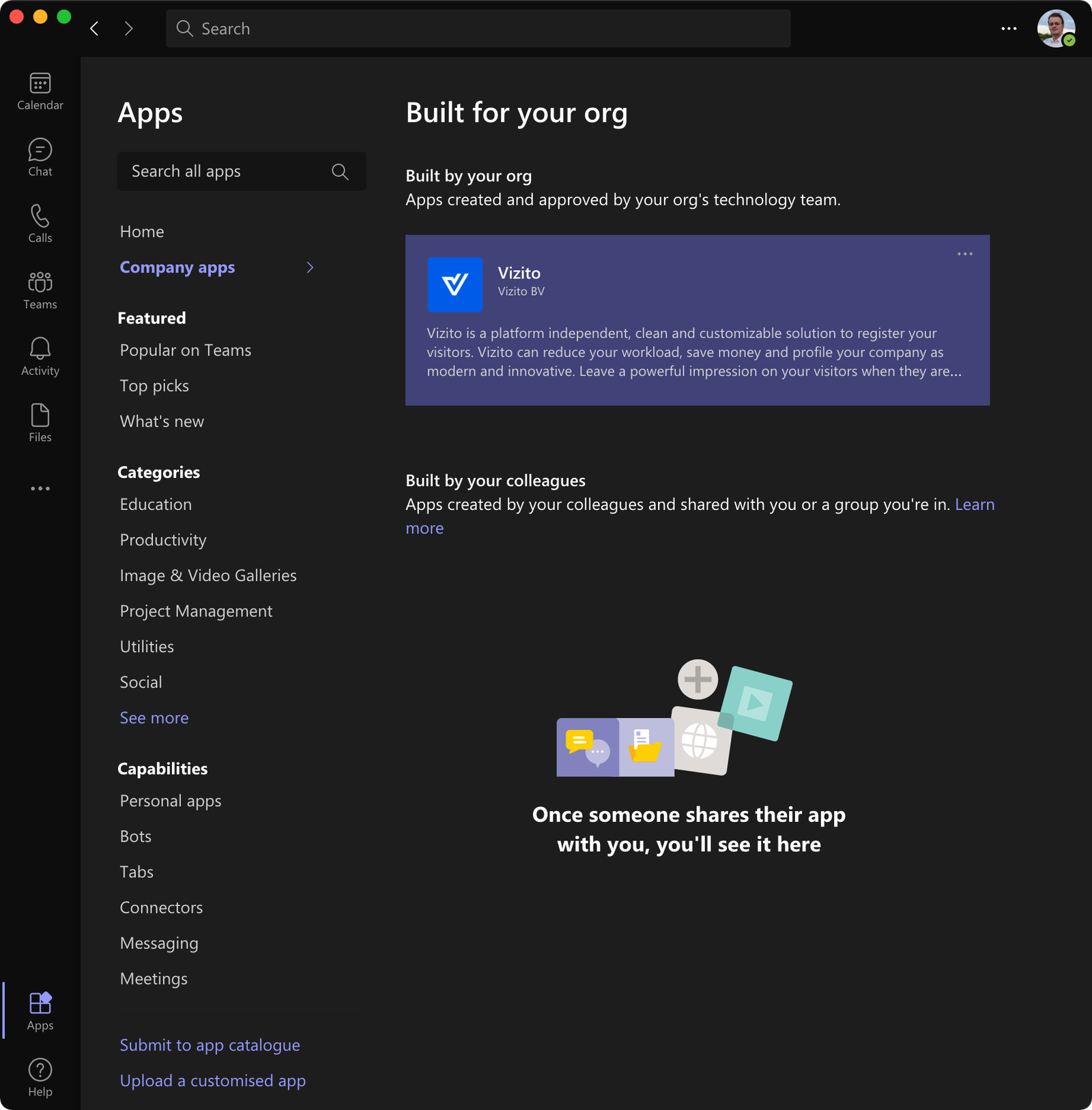 Step 3: Configure the Vizito app
Click on our App and you get prompted to add the Vizito bot to your Teams environment. Click on the little arrow down, besides "Add" and select "Add to a team".
Prerequisite: You need to have a team in place that holds all the members of your organization that should be able to receive notifications. You can create a base level team that is Organization-Wide (and lock it down if prefered) https://docs.microsoft.com/en-us/microsoftteams/create-an-org-wide-team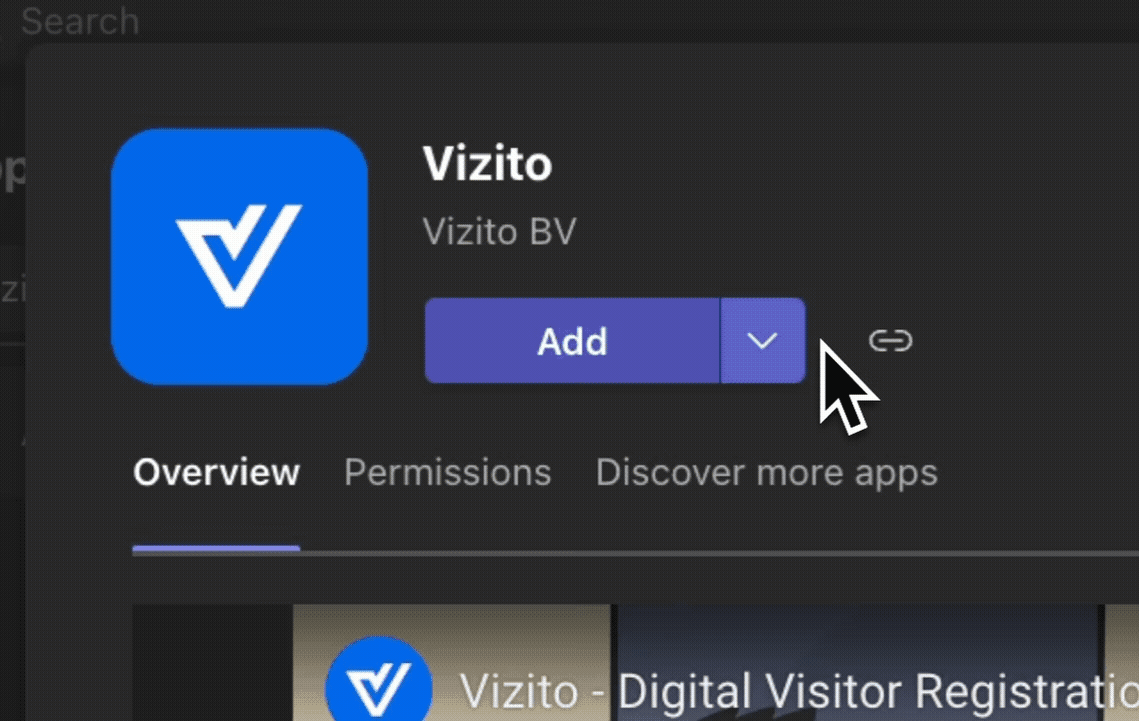 Now select the team in which you want to install the bot: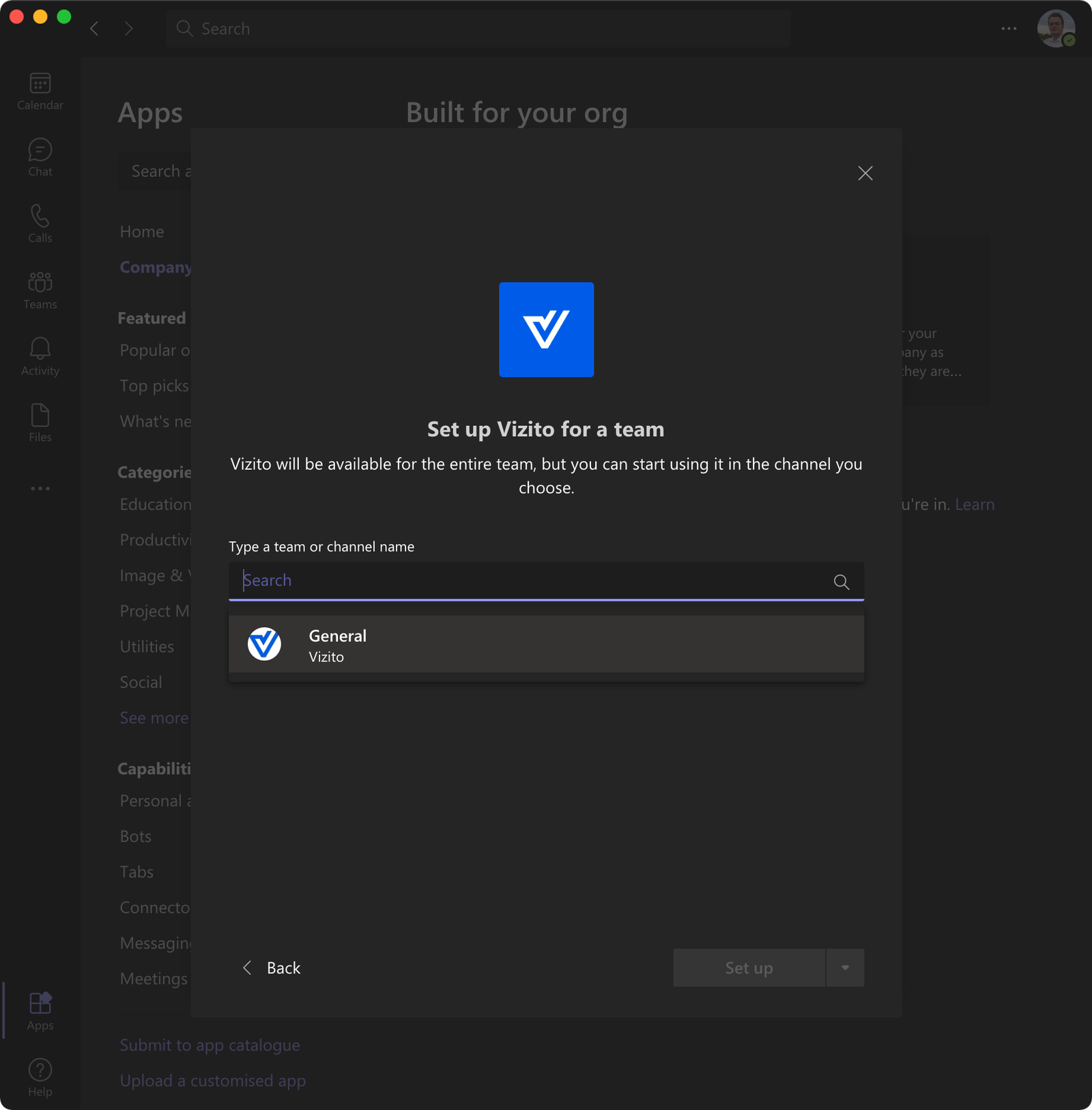 Once completed, you will see the following message: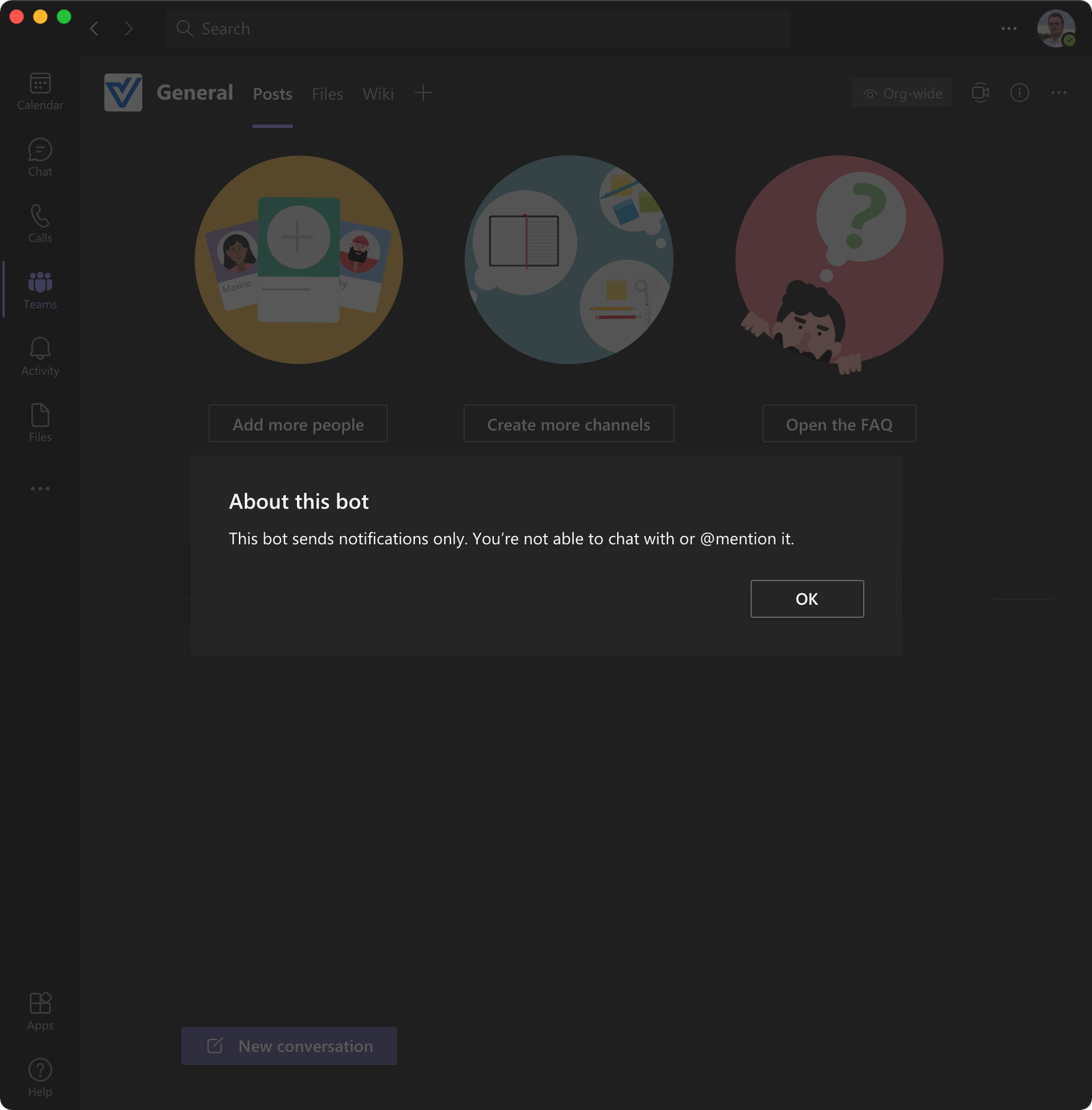 Double check if the bot isn't blocked for some reason. Look for the Vizito app under apps and rightclick to see if you can unblock.
Now your colleagues will receive notifications via Microsoft Teams when a visitor arrives for them. You can try it out by selecting yourself as a host for a test visit. Feel free to contact us at info@vizito.be to remove any test data.
Please make sure that the email addresses registered in the Manage hosts section do match the email addresses that are known in Microsoft Teams, as this will be the link between the Vizito hosts and your Teams colleagues.
Step 4: Backoffice settings
In General page under Notification Settings, add "Teams" as one of your Notification channels. Click "Save" to apply this change.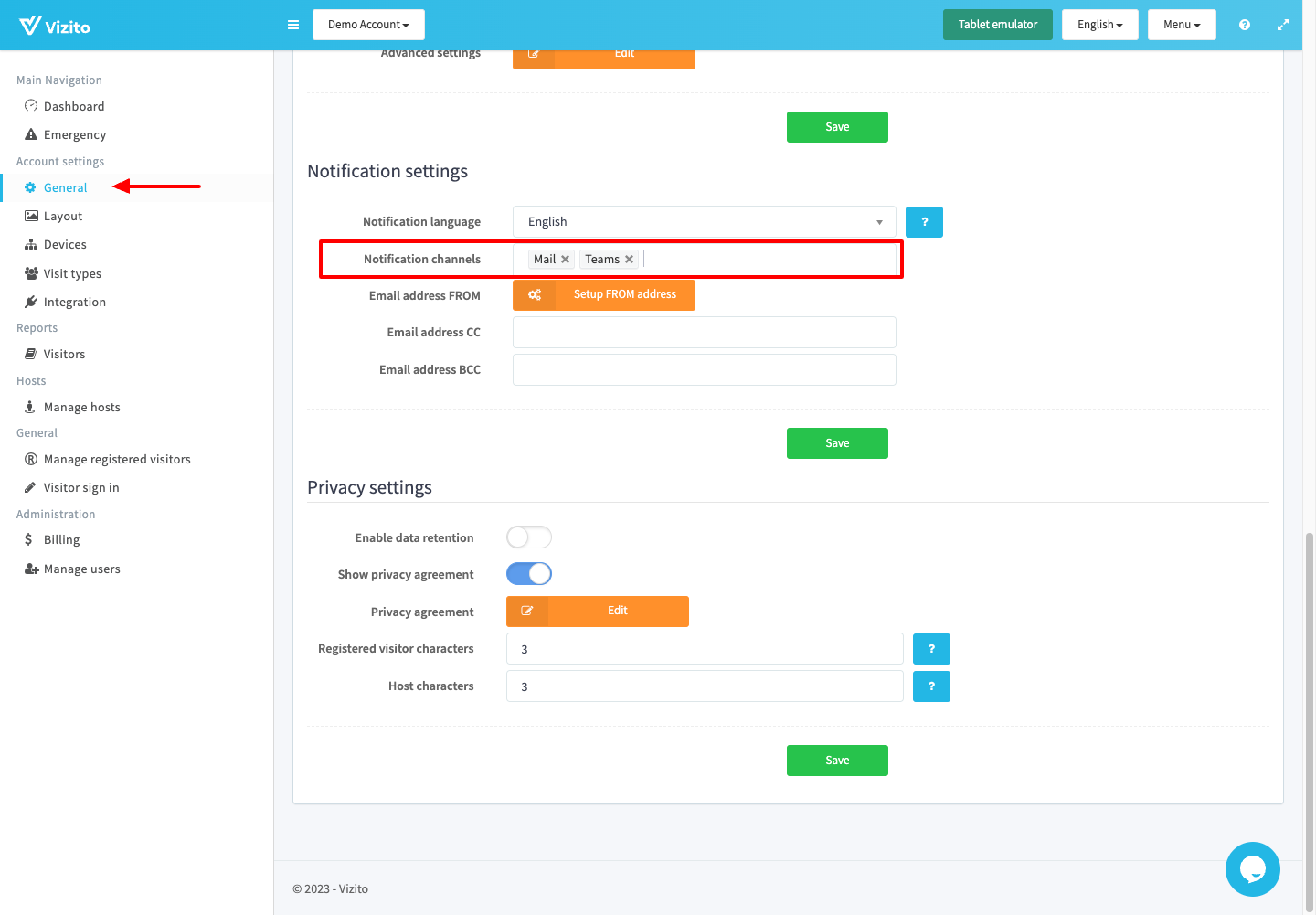 Run a test and check if the host receives a Teams notification after a visitor signs in!
Removing Microsoft Teams integration.
Go to https://backoffice.vizito.be/#/integrations and navigate to the "MS Teams integration" section to press the "Delete" button.
You can remove the previously given consent (link to the Vizito enterprise app) configuration by navigating to: https://portal.azure.com/#blade/Microsoft_AAD_IAM/StartboardApplicationsMenuBlade/AllApps/menuId/
Here you can filter on "Vizito" and see the reference pop up: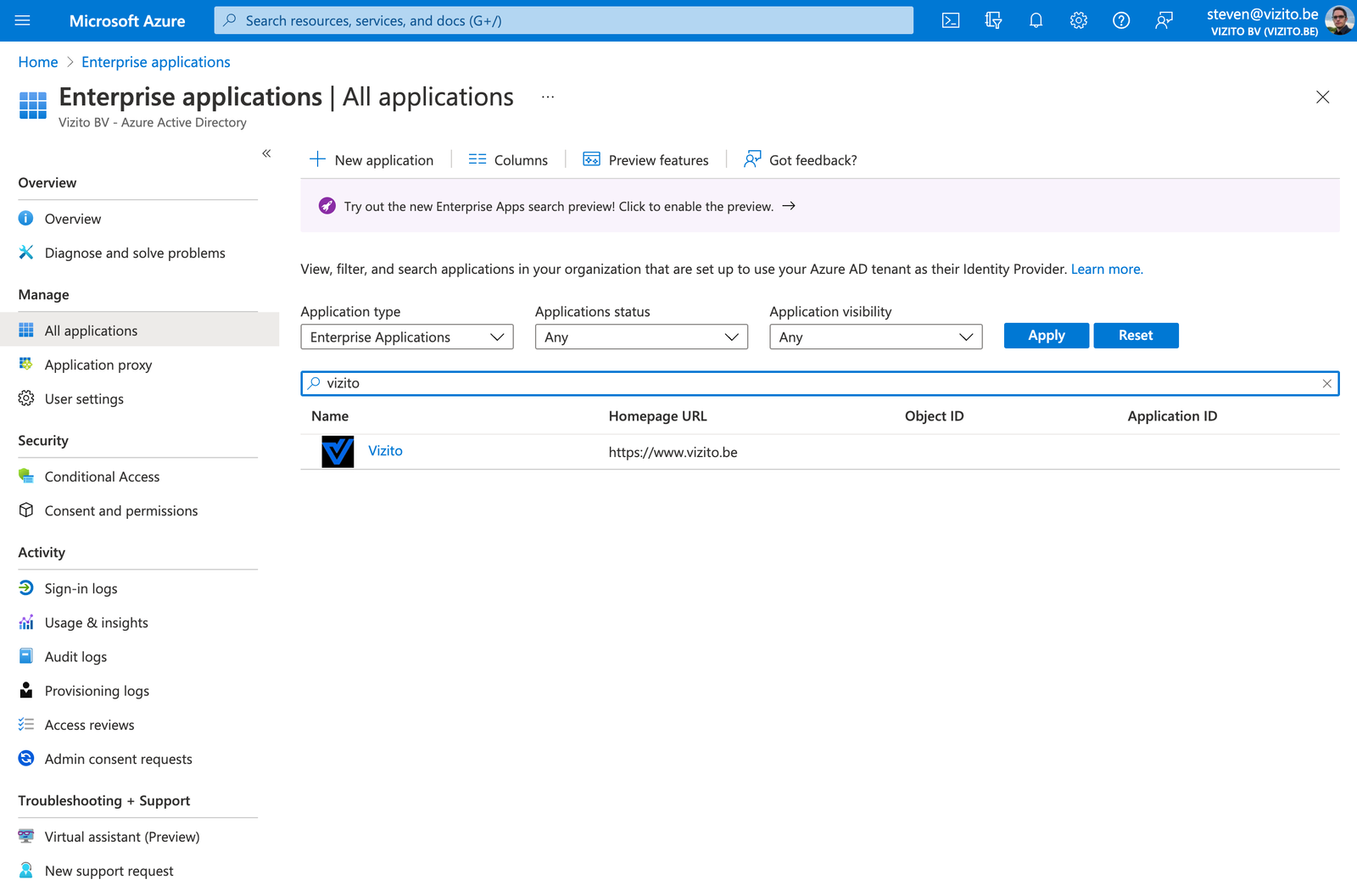 Click on the name "Vizito" and click on Properties: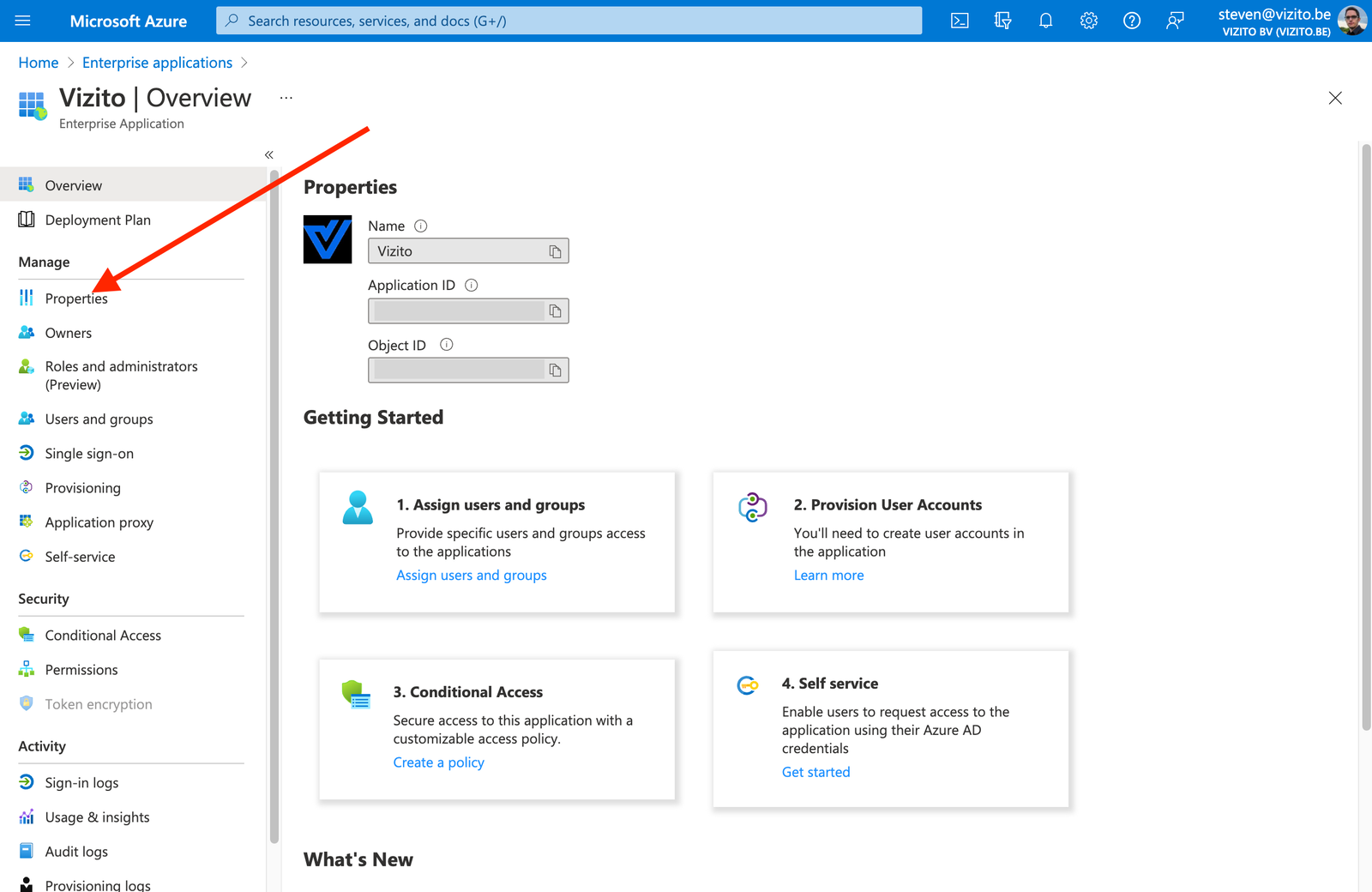 Click the "Delete" button.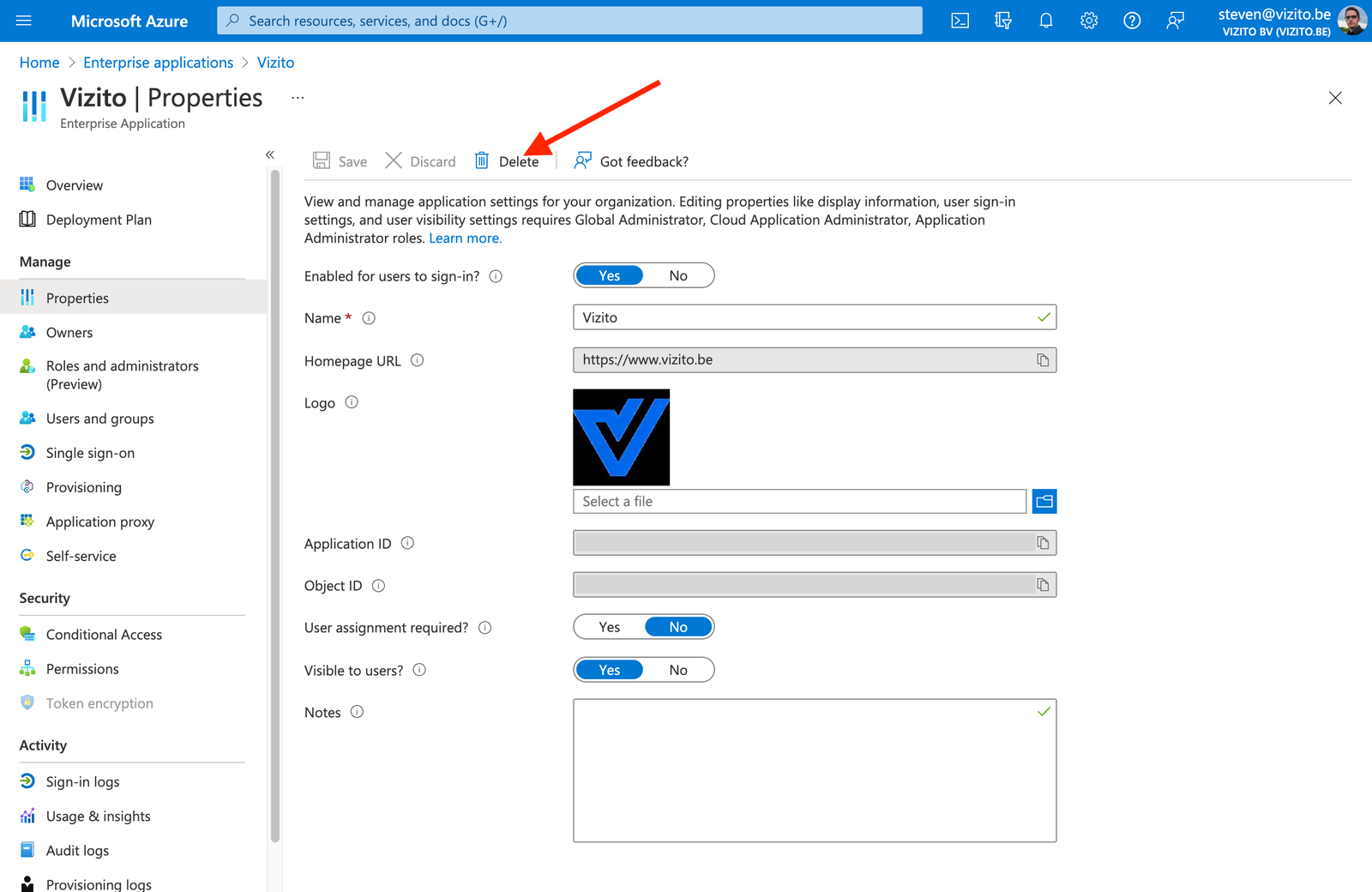 Confirm the deletion:
IMPORTANT! After deleting you may need to wait several minutes (5) for Azure to propagate these actions. (For instance if you would like to re-add the Vizito teams integration)
Next, remove the app from MS Teams. In MS Teams click on the three dots in the left side menu and click on Vizito.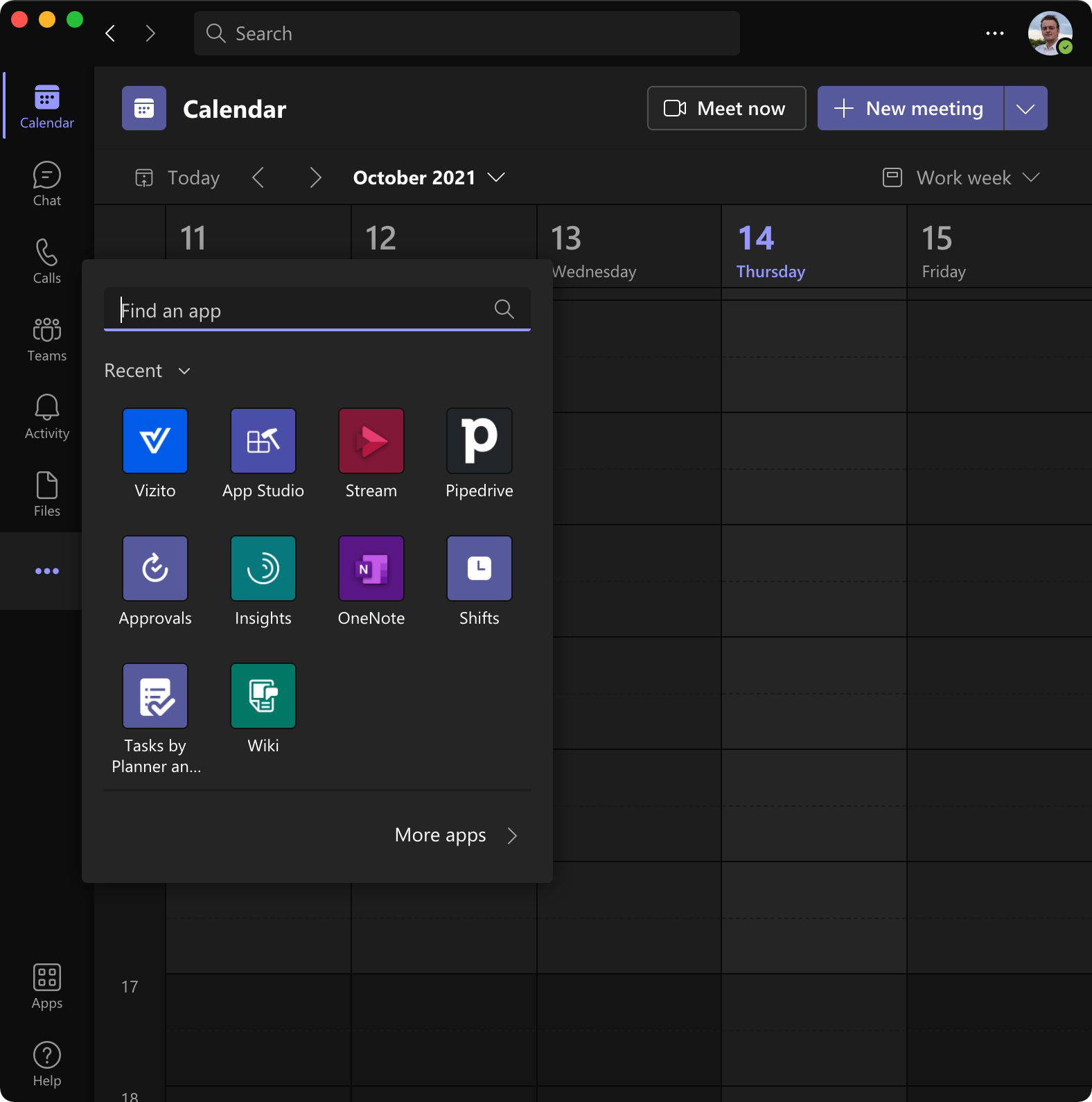 Then, right click on Vizito in the left hand menu and choose Uninstall. Confirm the dialog to remove the app.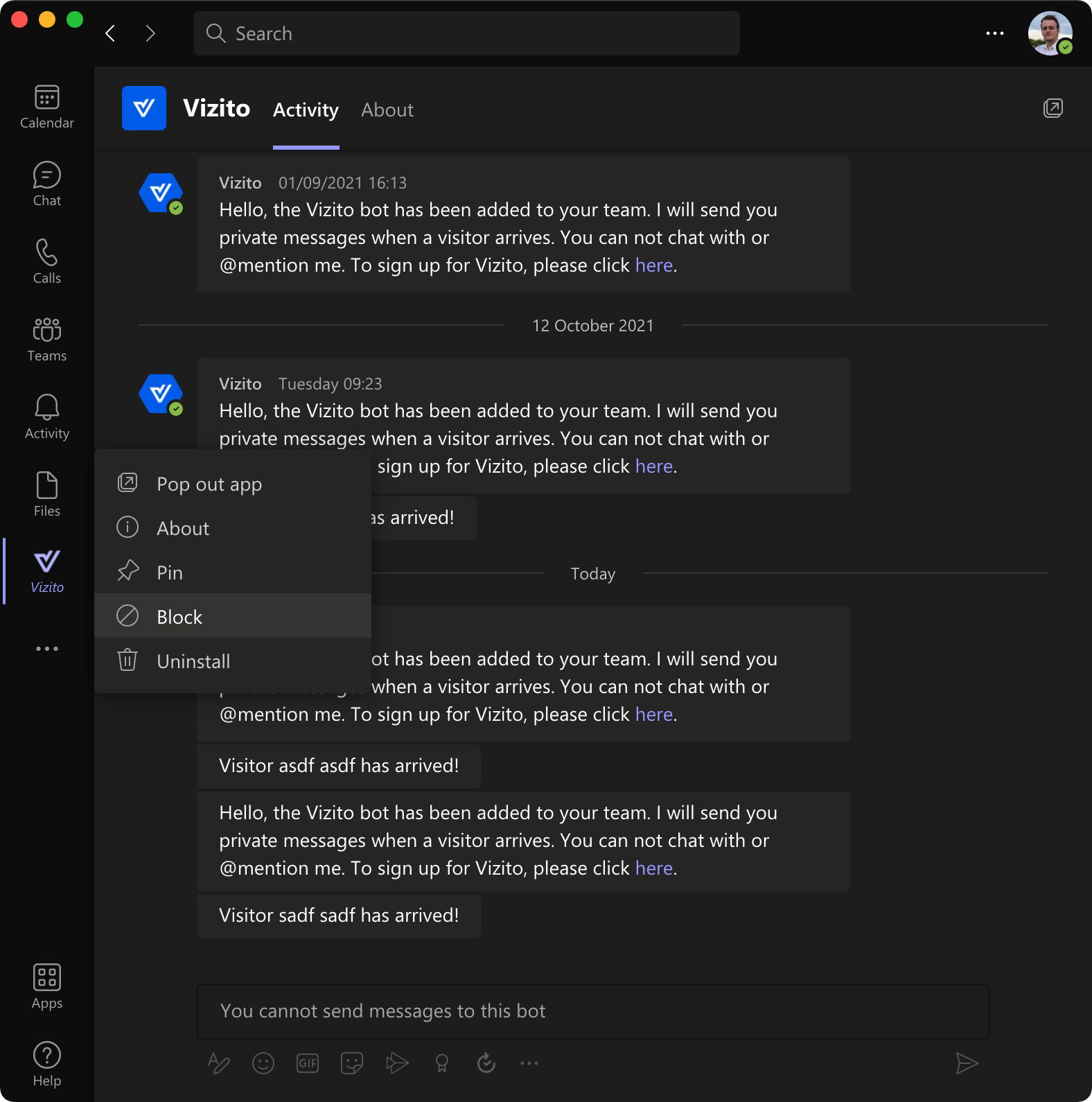 Now, click on Teams and select the correct team from which you wish to uninstall the app. Click on the three dots on the right hand side of that team and choose Manage team: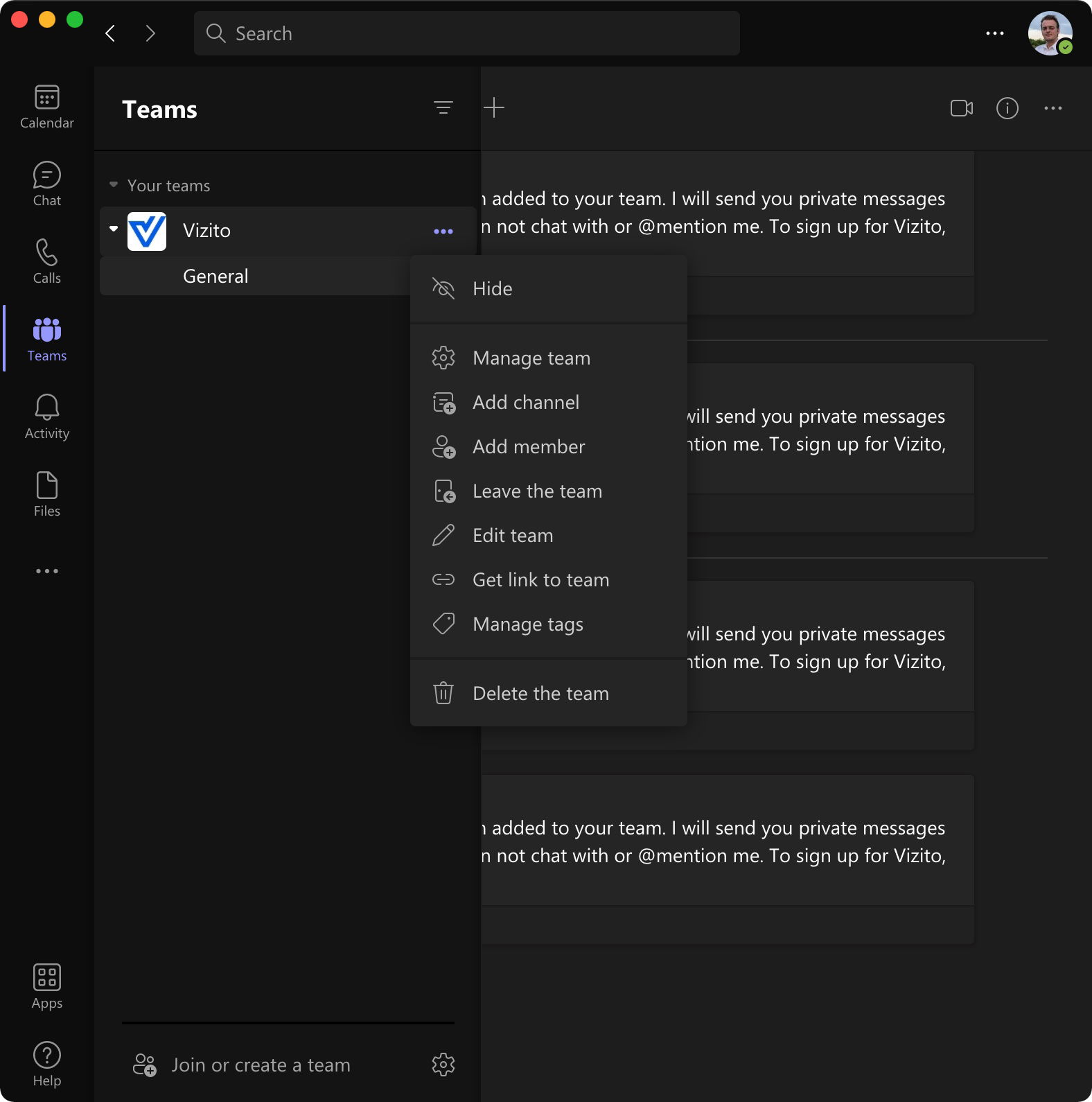 On the next screen, go to tab Apps and remove the Vizito app by clicking on the trash can and confirming the dialog that appears: