Considering an upgrade to a digital visitor management system? Once you have chosen the perfect system that matches all your needs, it's time to get started.
An important first step to get the most out of your digital visitor registration app is to install it correctly on the proper device. We'll explain to you what you'll need, how to install the system and how to configure the application to your specific needs.
What you'll need
To manage your visitors digitally, you don't need much. With nothing more than a tablet or a computer you can already get started. Place your tablet in a tablet mount or stand and add a label printer, and you've got the perfect set-up.
Tablet or computer
The visitor management system Vizito can be installed on any Apple iPad built after 2015. Most customers opt for the regular 10.2 inch iPad (model 2020).
For Android, we recommend devices built after 2018 for optimal compatibility. Most of our customers opt for Samsung tablets, such as the Samsung Galaxy tab A 10.1 (SM-T510).
No tablet at hand? No worries: you can also use a PC with touchscreen to run the app. We recommend using a system lockdown application to protect the PC from unwanted access, such as KioWare.
Tablet mount
To integrate the tablet smartly into your reception area, you can use a tablet mount, such as Bouncepad.
You can opt for a desktop model, wall mount or floor stand.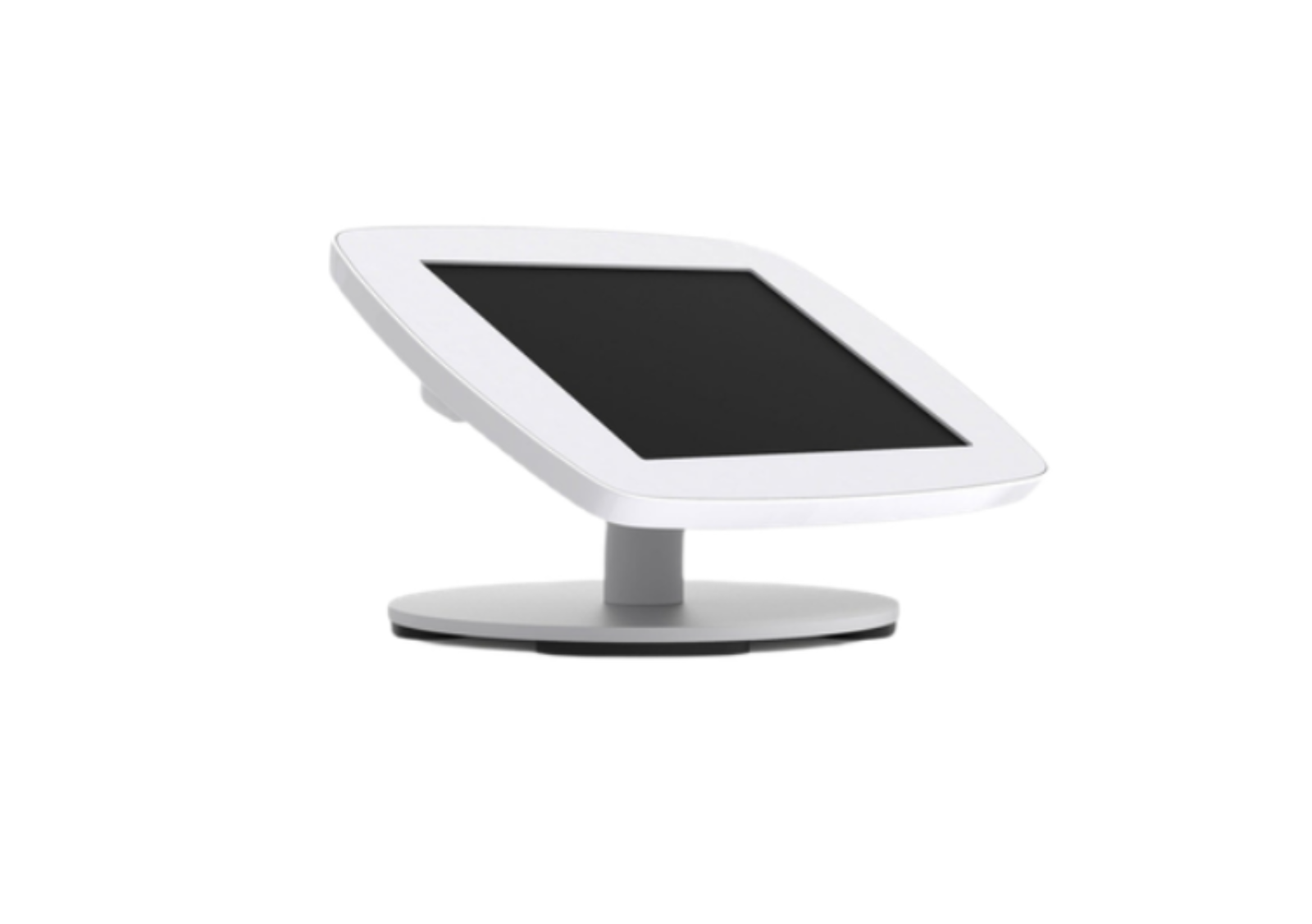 Label printer
If you want to print badges for your visitors, you will also need a label printer. We recommend this Brother label printer.
Here you'll find an overview of the hardware you'll need for digital visitor management.
How to get started quickly
Installing a digital visitor management system doesn't take long. These are the steps you'll need to complete.
1. Create an account
Create your account here. Enter your email address: you will receive an email with a confirmation link.
2. Install the app
Once you have confirmed your account, you can install the app on a compatible device.
IPad users can download the Vizito app in the App Store.
Android users can download the Vizito app in the Google Play Store.
If you don't have a tablet, we've got you covered as well. You can also use Vizito in Google Chrome or FireFox browsers on your PC. Open this page to start the emulator.
3. Activate your device
You can activate as many devices to your account as you like.
Open the Vizito app once you've installed it. You will see the following information: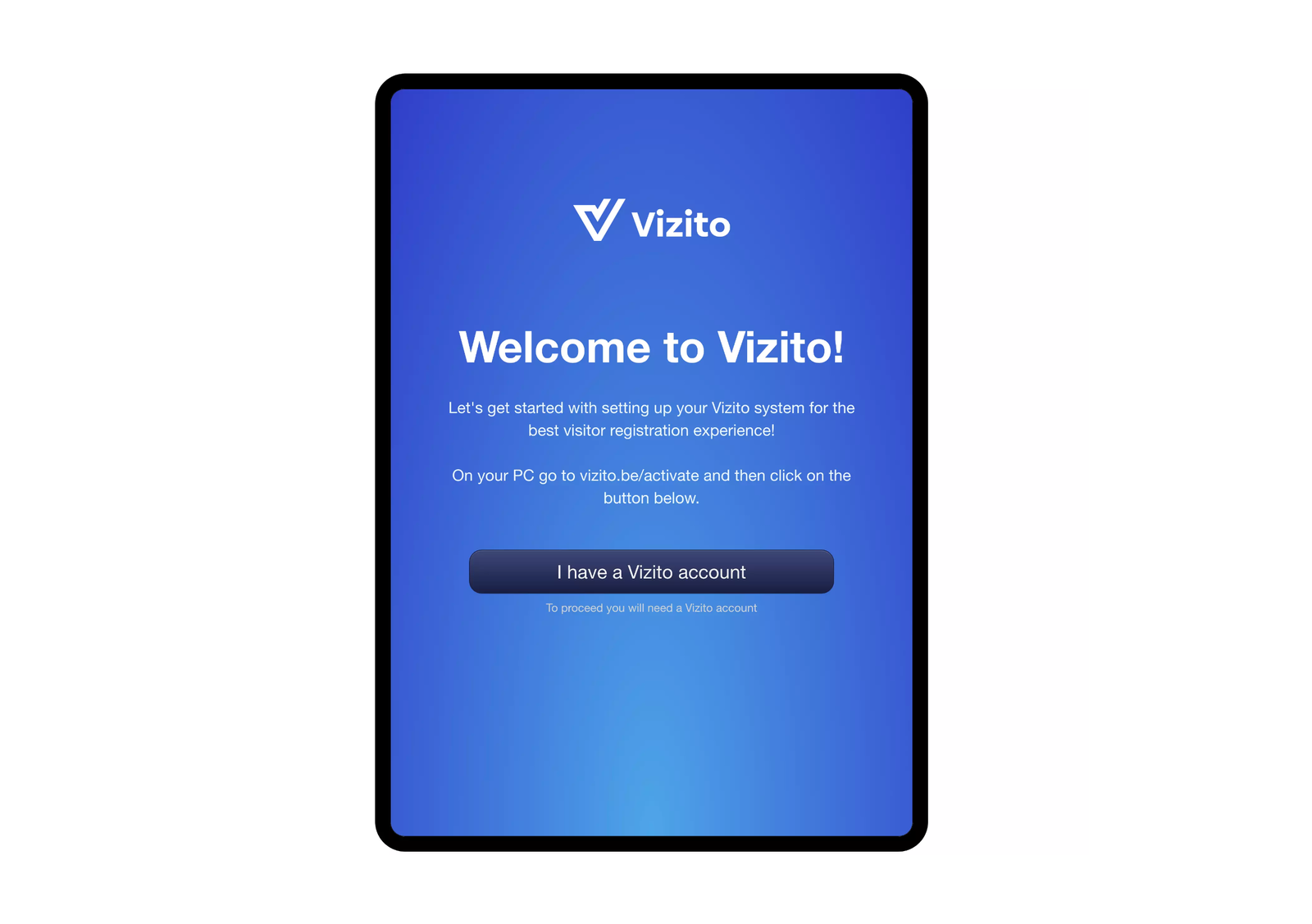 Click on 'I have a Vizito account'.
A unique code will be shown that you'll need to activate the device. Leave the Vizito app open and the device active.
Open up https://vizito.eu/activate in your browser and enter the unique code shown on your device.
Your device is now succesfully linked to your account.
If you're facing difficulties activating your device, please take a look at our Help Center.
4. Configure your account
Log in to the back office website to customize the app to your own needs. You can choose visitor types, fields that should be shown in the app, and adjust the app to your branding.
Layout
Choose a photo for the login and logout screen
Choose a photo or video for the splash screen
Choose colors for the various buttons in the app
…
The Vizito team can help you providing photos to personalize the app.
General
Choose which languages you want to welcome your visitors in
Set email and text message notifications
Use QR codes for faster sign in and sign out
Privacy settings
…
More information about privacy settings in Vizito can be found here.
Visit types
By default, one visit type is active and enabled. You're free to add more visit types, like for instance 'supplier' or 'employee'. In the Vizito app, the visitor will be prompted to select their corresponding visit type.
You can configure these visitor types separately. For example, you can show a different welcome message for each type of visitor, choose whether documents should be signed, and whether a badge should be printed.
More information on visit types can be found here.
Integrations
You can integrate the app with the applications you use within your company, such as Google Workspace, eID integration, Slack, Teams or KioWare QR code scanner.
More information on integrations can be found here.
A complete overview of all settings in the Vizito app can be found in our Help Center.
5. Lock your tablet in kiosk mode
Make sure to lock your tablet in kiosk mode so that visitors will only have access to the registration app. This will prevent users from changing settings or using the tablet for other purposes.
Find out how to enable kiosk mode on iPad here.
Find out how to enable kiosk mode on your Android tablet here.
If you're not using a tablet, but a PC, you can enable kiosk mode by using a dedicated app such as KioWare.
Once you've completed these steps, you're all set to get started with digital visitor registration. You can learn more about the benefits of digital visitor registration here.
More questions? Our team at Vizito is ready to help. Chat with us or book a demo to discover what Vizito can do for you.
To get a feel of how a modern visitor management system can help your business grow, try out Vizito during a 14-day trial or chat with us to discuss how Vizito can help you improve your reception.