Because we know facilities managers love numbers, we've gathered some surprising data that are of importance in 2022.
The way we work has changed dramatically in recent years. Our workplace is evolving too - as these statistics prove.
Flexible work is on the rise
1. 70% of companies opt for a hybrid working model
Even before the corona pandemic, remote working was on the rise. Research from Global Workplace Analytics shows that telecommuting grew by 216 percent between 2005 and 2019, and with an extra push from Covid, it is now booming. Among knowledge workers, the percentage of telecommuters has even almost doubled.
Recent studies show that the hybrid work model is now the preferred choice among companies. 70 percent of companies consider a combination of telework and office work as the new normal, according to a survey by Mercer.
2. 48% of employees work at least partially from home
Research company Gartner calculated that during the pandemic, nearly half of employees worked full-time in the comfort of their own home. Before the pandemic, 30 percent worked at least occasionally remote, compared to 48 percent today.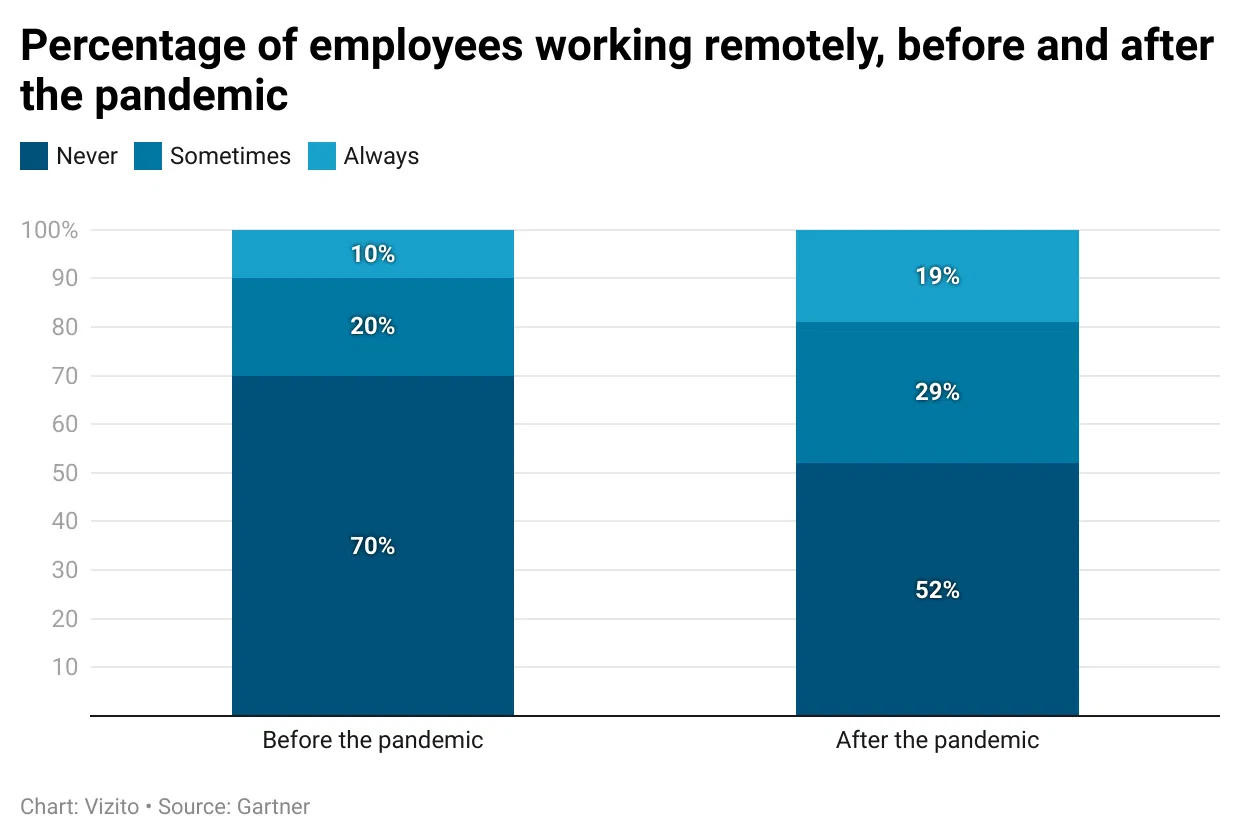 3. 16% of companies worldwide work completely remotely
The fact that some companies today don't have a (head) office at all and opt to work completely remotely, just proves how much the mindset has changed. Today those companies represent just 16 percent, according to Owl Labs, but there is a good chance this number will increase in the coming years.
Freelance platform Upwork estimates that five years from now more than a quarter of all employees will be working completely remotely. That means 40 million employees worldwide working full-time from their own living room.
4. 97% of employees want to work remotely
Telecommuting is thus on the rise, and employers wouldn't want it any other way. According to a survey by Buffer, 97 percent of employees want to have the option of working remotely at least part of the time. Main reasons, according to Owl Labs, are time savings, stress reduction, more time for family and better productivity.

5. Telecommuting could reduce miles traveled by 140 billion per year
Teleworking means workers no longer have to drive to the office every day, and that has major implications for traffic. According to KPMG, in April 2020 - during the first COVID-19 wave - the number of miles traveled in the United States dropped by as much as 64 percent.
Today, commuter waves are back. But if we continue to telecommute at least part of the time, the same study suggests, the number of miles traveled could be reduced by 70 to 140 billion - in the U.S. alone.
This doesn't just save money for employers, it also helps reduce greenhouse gas emissions.
6. Companies can save 11,000 dollars per employee through telecommuting
One statistic that will surely be of interest to you: the average U.S. company saves more than 11,000 dollars a year by having their employees work remotely at least half of the time, according to a study by Global Workspace Analytics.
How is that possible? That you spend less money on office space and energy costs when workers telework, goes without saying, but there are other factors at play as well. Better staff satisfaction, for instance, which results in less outages, less staff turnover and increased productivity and engagement.
7. Employees save up to 7,000 dollars a year through telecommuting
Not just businesses benefit financially from telecommuting. Global Workspace Analytics states that employees can save 2,000 to 7,000 dollars per year. This is because various costs are eliminated or reduced: transportation and other work-related costs such as work outfits or restaurant expenses, as well as, for example, expensive childcare. A home office can sometimes even provide tax benefits.
Read more
5 trends in facilities management that stand out in 2022
8. For 60 percent of millennials, flexible work is a priority
According to financial services provider Bankrate, 60 percent of millennials choose flexible work options over higher pay. These workers would be willing to give up some of their free time and other benefits if it meant they could work remotely whenever they wanted. That's an important fact, given that millennials make up nearly half of today's workforce.
But it's not just millennials who rate flexibility highly. All employees want flexibility, and that's what most of them got in recent years. If their company would reduce that flexibility again, more than 50 percent say they are willing to look for another job, according to research from service provider EY.
9. 84 percent of workers are happier thanks to telework
Of the people who worked remotely during the pandemic, 84 percent said in an Owl Labs survey they would be happier if they had the opportunity to continue telecommuting at least some of the time. Nearly 80 percent would feel less stressed and more confident to do their jobs.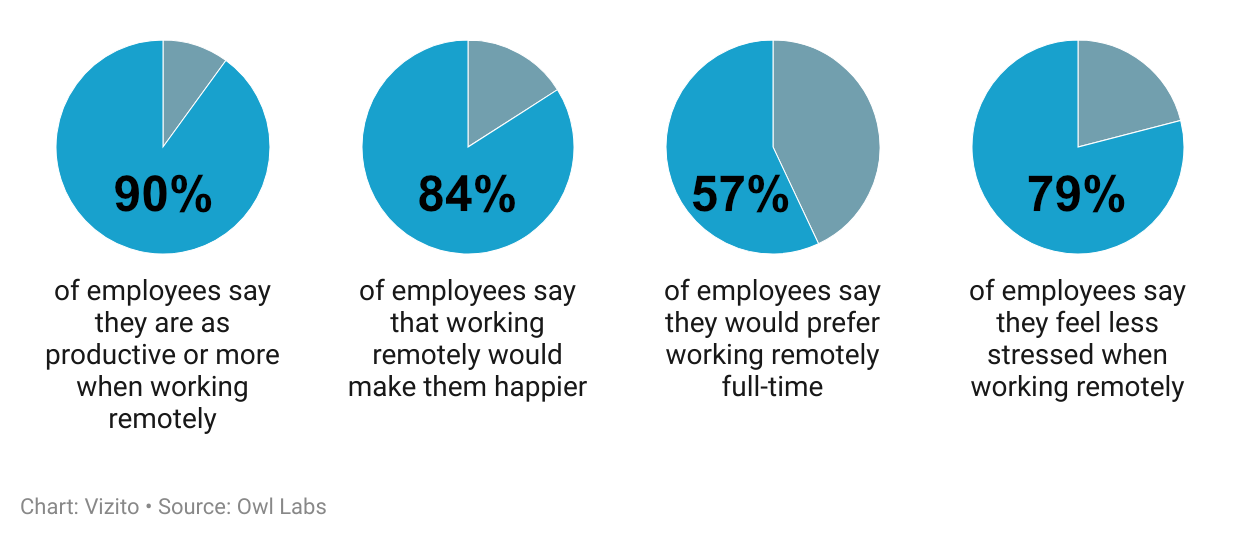 10. 25% of teleworkers has difficulties unplugging after work
We have seen telecommuters are more engaged, happier, healthier and more productive, but there are challenges, too. According to Buffer, 25 percent of remote workers are having trouble unplugging when their working day is over. Disconnecting mentally seems harder when working at your own kitchen table.
Other difficulties teleworkers face are loneliness (19 percent) and communication (17 percent).
11. 44% of companies don't allow teleworking
Despite the undeniable rise of remote working, there are still companies that don't allow telecommuting. Some jobs simply require physical presence - like receptionists or production workers - but even office workers are still expected to be in the office full time in some companies.
According to Owl Labs, 44 percent of companies today are still averse to telework. But this number is expected to decline, due to external circumstances, technical evolutions and pressure from employees and competing companies.
Facilities management market continues to grow
12. Facilities management market will grow by 1.3 percent in 2022
The corona pandemic has highlighted the importance of facilities management. The role of the facilities manager becomes more prominent, and more businesses are recognizing the huge impact a facilities manager can have on the company. Facilities management is therefore one of the fastest growing industries.
Fortune Business Insights calculated that the market for facilities management and other administrative services is expected to grow by 1.3 percent by the end of the year compared to 2021.
Between 2020 and 2030, employment in the industry will grow by 9 percent. Globally, the facilities management market is worth 1,260.36 billion dollars today. By 2029, it will be worth 1,856.44 dollars, according to Fortune Business Insights.
13. One workspace costs 8,000 to 14,000 dollars a year
Research company Gartner calculated that providing a workspace to one employee costs an organization 8,000 to 14,000 dollars a year. Costs can be reduced by proper management of space and equipment.
The most expensive workplaces, according to real estate consulting firm JLL, are in Hong Kong, New York, Beijing and London.
Smart technology and data analytics gain momentum
14. 63% of companies use data analytics to increase productivity
Data analytics has fundamentally changed the business landscape. More than ever, it is providing organizations with actionable insights that lead to positive results. Most companies (63 percent) use data analytics to increase productivity and efficiency, according to a poll by MicroStrategy. 57 percent rely on data analytics to drive decisions.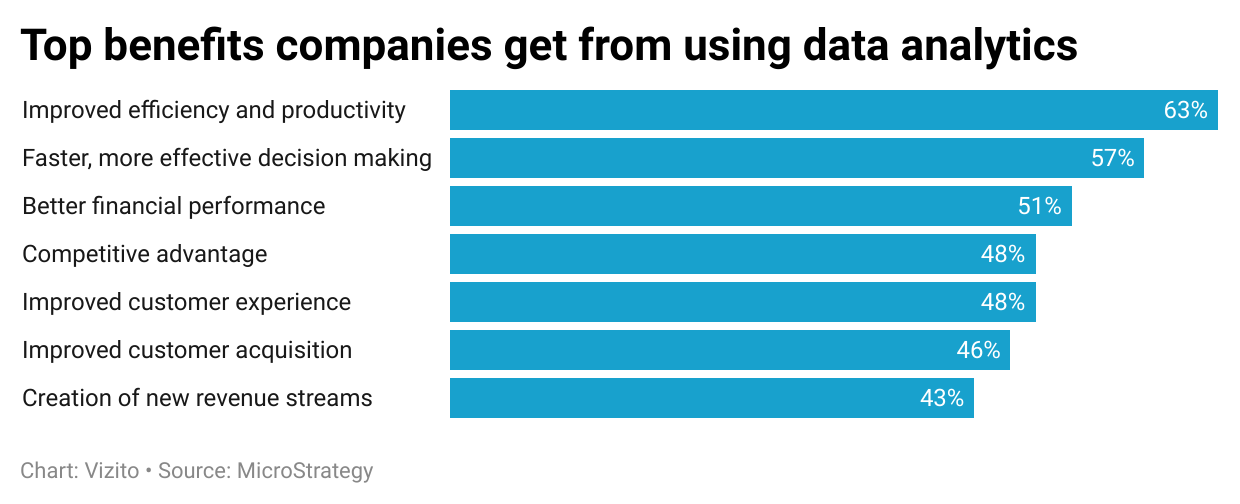 15. Smart technology can cut energy costs by 20 percent
Research shows that companies save an average of 5 percent on total occupancy costs, 3.5 percent on lease costs and 3.3 percent on maintenance costs by using special software and smart technology. Using sensor technology to monitor energy consumption in office buildings can even reduce energy costs by as much as 20 percent.
By using space management software, companies get a clear view of how their office space is being used. Based on this, they can implement decisions that will help them save a lot of money. Maintenance software provides insights into operational costs, which can then be consistently evaluated.
16. For 27% of companies, security is key in data analytics
27 percent of organizations worldwide cite security as the most important factor when choosing a data analytics solution, according to a poll by MicroStrategy.
Other important factors are: versatility of the platform, ease of use and reputation (17 percent each).
At Vizito, we take security seriously. To read more on how visitor management systems can improve safety in your company, click here.
17. Spendings on IoT technology rise to $1.2 trillion
It's clear that the role of smart technology is becoming increasingly important and will continue to grow. By 2022, global spendings on Internet of Things technology are predicted to reach 1.2 trillion dollars, with a compound annual growth rate (CAGR) of 13.6 percent.
The number of connected IoT devices worldwide is expected to reach 14.4 billion by the end of this year.
New workforce challenges
18. By 2030, 75 percent of the labor force will be millennials
The U.S. Bureau of Labor Statistics predicts that millennials will make up 75 percent of the workforce by 2030.
To attract this talent, companies will need to embrace the technological tools this generation is used to wield. New challenges lie ahead for facilities managers.
19. 63% of employees don't feel fully engaged in their jobs
In a Global Workforce Study by insurance consultant Towers Watson, 63 percent of U.S. workers say they don't feel fully engaged in their work, largely because the work environment does not provide them with adequate support. According to the data, employees lack a positive connection with their employer, resulting in declining productivity.
20. Work-life balance is best in Italy
According to the OECD, people in Italy have the best work-life balance. Only 3 percent of employees in the country work more than 50 hours a week. Denmark, Norway, Spain and the Netherlands also rank highly. The U.S. ranks only 29th because more than 10 percent of Americans have very long working days.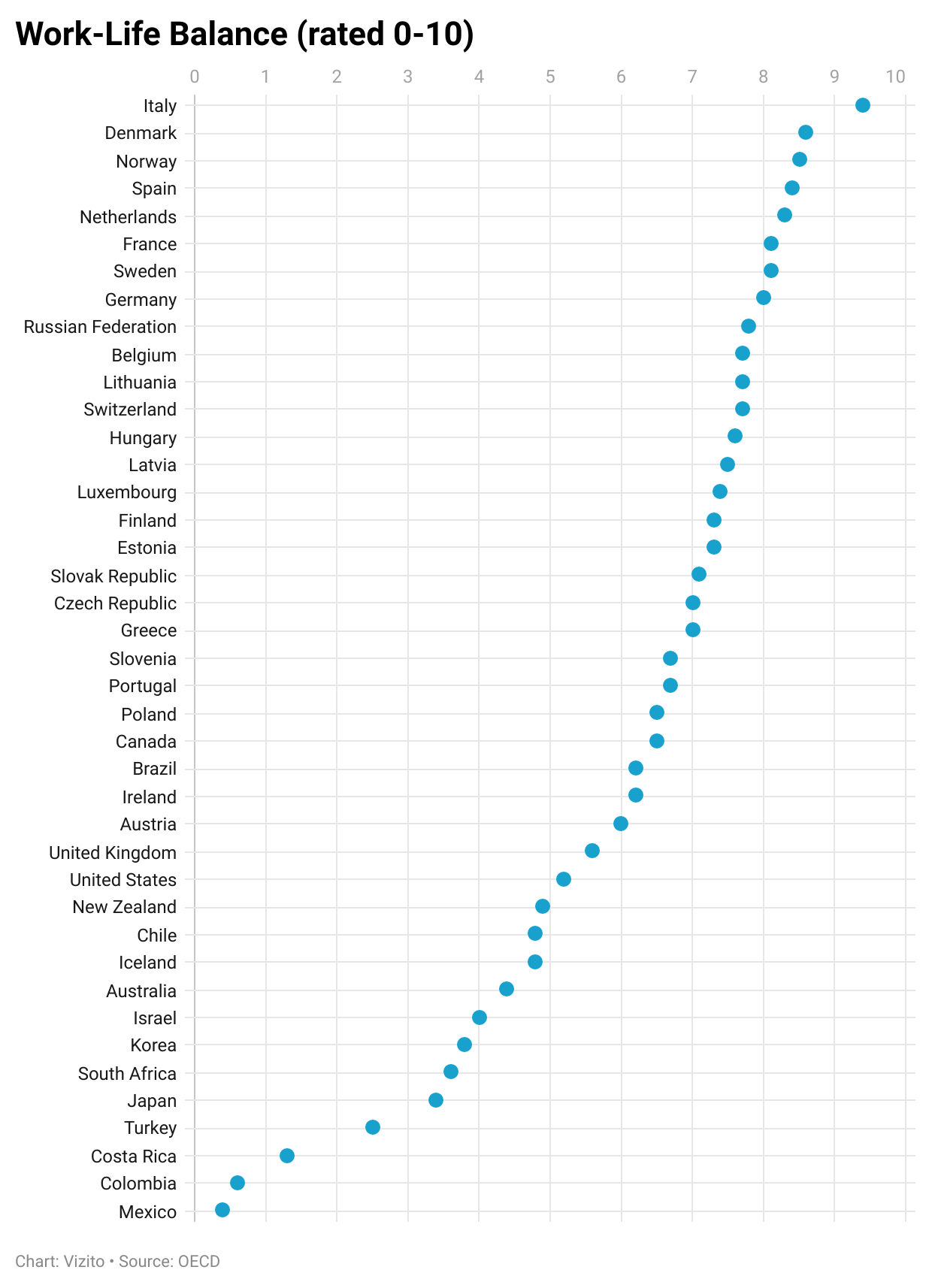 To get a feel of how a modern visitor management system can help your business, try out Vizito during a 14-day trial or chat with us to discuss how Vizito can help you improve your reception.
Got more questions? These are the 7 most common questions about visitor management systems – and our answers.