In 2022 we have access to more technology than ever before. On top of that, the corona pandemic has radically changed the way we work. Telework and the gig economy are booming, while the emphasis has shifted to flexibility and work-life balance.
The facilities management industry has always adapted to changes in society and technology. In 2022, this will be no different. In this article, we take a look at some of the key trends in facilities management.


1. Hybrid work is here to stay
One trend that was sparked by the covid pandemic and will continue to gain traction is hybrid working.
A poll by management consultant Advanced Workplace Associates (AWA) showed that only 3 percent of office workers worldwide want to return to the office full-time.

A survey by HR service provider Tempo-Team and the University of Leuven showed that 8.4 percent of teleworkers don't want to return to the office at all.

According to HR consultant Robert Half, 1 in 3 employees would even quit their jobs if there was no possibility of hybrid work.
Just two years ago, we all worked in crowded offices and meeting rooms. Today, meetings in real life are rather the exception, as employees are working from different locations with flexible hours.
Research by real estate consultancy CBRE shows that even after the pandemic, 87 percent of large companies are sticking to a hybrid work strategy, with employees working remotely at least part of the time. For facilities managers, that entails some serious thinking: how much office space is really needed, how can that space be managed smartly, and which technologies and apps support the hybrid work strategy?
If your company is not yet familiar with hybrid working, 2022 is the year to make a start. By looking at smart building technologies, smart space management and mobile solutions, you can make the hybrid work strategy work to your advantage.
2. Flexible office space
Hybrid working obviously has implications for your business space, as less people mean you need less space.
Maybe you've already downsized your office space to cut costs. If so, you're definitely not alone: a study by the international consulting firm PricewaterhouseCoopers (PwC) in January showed 31 percent of business leaders were planning to do so.
Whatever your plans, hybrid work requires a smart redesign of your buildings. Not just to be able to accommodate everyone comfortably, but also to meet the new expectations of your employees. During the lockdowns, they have been able to schedule their day in the way that worked best for them. By now they have become used to the flexibility of teleworking. When they return to the office, they expect an environment that supports their personal work style.
The office of the future is more than ever a place for meaningful contact with colleagues, while still providing quiet areas where employees can concentrate on their tasks.
The redesign is based on smaller spaces suitable for 'hot desking' and 'office hoteling'. Hot desking allows employees to occupy any available chair, while office hoteling is a more sophisticated system in which employees can reserve a work space.
Business leaders also need to rethink the technology, services and amenities needed so that everyone can do their jobs. Many companies use apps that allow employees to stay connected, reserve spaces, request services and welcome visitors.
One of the new applications that fits within a hybrid work culture is digital visitor registration. Here you can read how you can get started with a visitor management system in less than 30 minutes.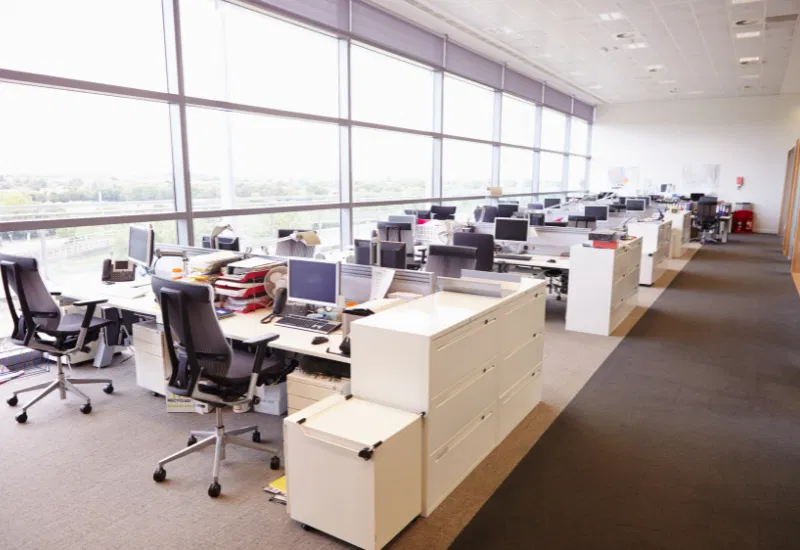 3. Focus on climate
The climate has been high on the agenda for years now. Awareness keeps growing that we must turn the tide to save our planet.
To make this immense challenge a succes, new regulations are put in place constantly. This affects companies, who must take steps to reduce their carbon footprint.
Many facilities managers are deploying software solutions to help them do this. Some examples are:
Smart sensors to switch on lighting, heating and air conditioning only when a room is in use
Applications that map energy consumption and indicate where savings can be made
Digital visitor management applications to reduce paper, save trees and thus help the climate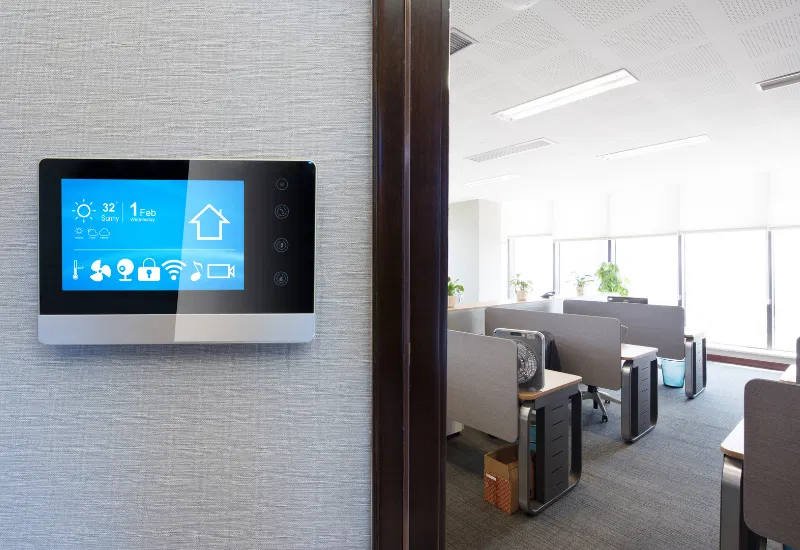 4. Focus on health and well-being
The pandemic has profoundly changed the situation in our workplaces. One of the things that's here to stay are prevention measures to limit the spread of viruses, such as social distancing, self-testing, contact tracing and extra cleaning.
We also see an increased focus on employee health - mental as well as physical. While health and wellness programs tended to be regarded as nice perks, today they are an increasingly important part of company culture.


5. Investments in smart technology
Increasing amounts of devices are connected to the Internet of Things. By the end of 2021, there were more than 10 billion connected devices, and market researcher IDC (International Data Corporation) predicts there will be more than 25 billion by 2025.
In office buildings, smart technology can help facilities managers create a comfortable, energy-efficient environment, manage buildings more easily and plan for future needs.
Examples include systems for (fire) security, asset tracking and smart parking, in addition to the previously mentioned smart sensors and digital visitor management.
As technology continues to improve, we also see data analytics gaining importance. The presence of accurate data about the occupancy of spaces, visitor numbers and consumption patterns makes it possible to make substantiated strategic decisions.
This also allows you to detect warning signs to prevent operational and safety problems, such as power outages or issues with water hygiene. If you have multiple buildings, you can use data from one building to make decisions for another facility. For example, using data analytics and AI, you can determine why energy consumption is more efficient in one building than another.
One tip we can give you is to use cloud based services. These greatly simplify data analysis because they collect and store all the data for you. You connect your device and the data is immediately available for use.
Cloud services also offer the ability to make data accessible on a customized basis. A manager may not need access to the same data as the owner of the building. Another benefit is that you don't have to worry about data loss, outages or backups.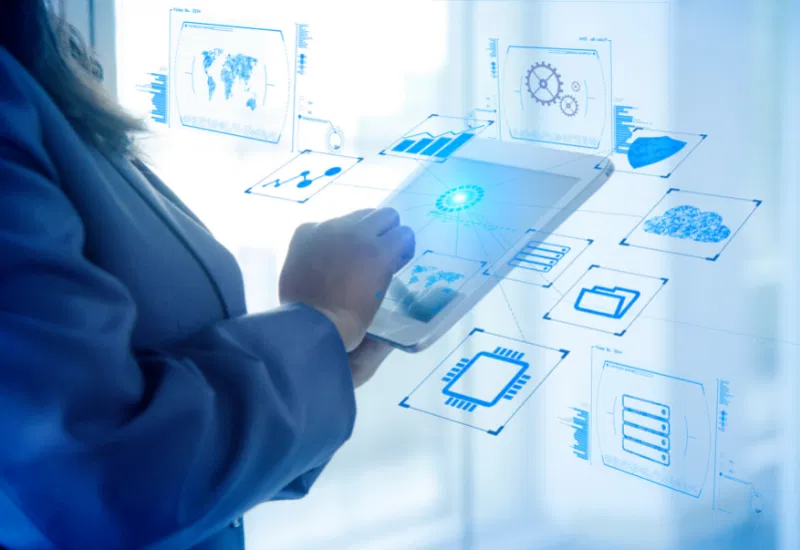 How will these trends in facilities management affect your business?
These trends have developed gradually over the past few years, and in 2022 we will see them bloom. In almost every aspect of facilities management, there is a greater focus on personel well-being and connecting people in new ways.
Facilities managers are increasingly taking on a strategic role within their companies. A major challenge for them is determining how to exploit these changes to benefit the workplace.




To keep your organization on track in the changing business landscape, it is essential to use reliable systems. To get a feel of how a modern visitor management system can help your business grow, try out Vizito during a 14-day trial or chat with us to discuss how Vizito can help you improve your reception.